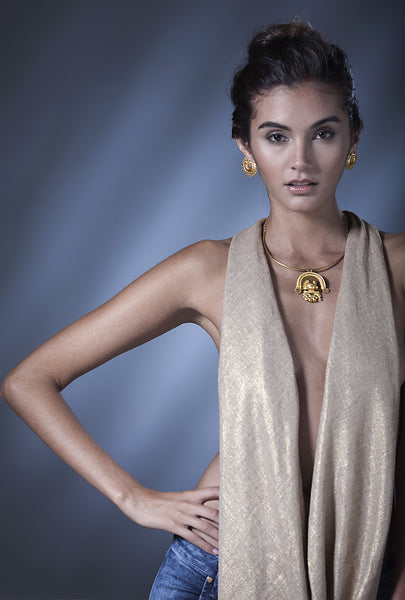 24K GOLD PENDANTS
LUMA GOLD pendants are replicas of the gold-work art that included small stick heads with a range of different representations of men and animals, very fine cast filigree circular and semi-circular ear rings, nose rings with side extensions, men with forked headdresses, circular or 'n' shaped nose rings, bells and rattles. Various motifs were represented on these ornaments: some are realistic images, others are highly schematised. The figures of human beings are naturalistic, depicting men with gourds in their hands or musicians with pipes and maracas, either standing or sitting on benches with high backs. Wildlife species include those typically found on the rugged Serranía, but also others from marshy or riverside areas. One very typical feature of these objects is that scenes are represented on them, such as flocks of ducks sitting on a branch, a feline figure fighting with an alligator, or a man holding the claws of a bird of prey.
As shown in the picture pendants should hang from a semicircular ring or any of our chains found in the GOLD NECKLACES thumbnail under 24K GOLD PLATED JEWELRY.
These artifacts are 24 karat gold plated and and made by the only authorized manufacturer of the original pieces displayed at the famed Gold Museum (Museo del Oro - Bogotá).